Department Highlights
Asian Greens
Wide range of Asian vegetables from bok choy to mizuna
Mushrooms
From shiitake, enoki, matsutake (when in season) and more!
Organic Asian Staples
Large selection of Organic Asian Fruits and Vegetables
Tropical Fruits
Discover fruits like jackfruit, rambutan, longan and durian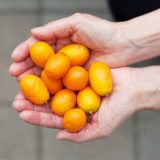 Specialty Citrus
Not just oranges, but pummelos, kumquats and yuzu too!
Ume Plums
This seasonal spring fruit is most often used to make Umeshu (Japanese Plum Wine) and Umeboshi (Pickled Plum). While they are most often called plums, ume are actually apricots.
Ume season only lasts a few weeks, starting around the middle of May, and ending in early to mid June.
Assorted Hokto Mushrooms
Hokto Mushrooms are organically grown in the the USA, and are a good source of Vitamin D, B vitamins, potassium, and dietary fiber. They also taste great in hotpot, soups and stir fries. Choose from Eryngii, Bunapi, Bunashimeji, or Maitake.
Manila Mango
A customer favorite!  This tropical fruit is native to the Philippines and is known to be one of the sweetest mangoes around. The Manila mango has a bright yellow flesh and because it is a fiber-less variety, it has a smooth and buttery texture.
Jackfruit
Sweet and pungent, Jackfruit can be eaten fresh or cooked. This versatile tropical fruit can be seasoned and slow roasted, transforming into a tasty, and quite convincing, pulled pork substitute, perfect for sandwiches, salads, or tacos! Featured Produce
Discover More About our Produce Offerings
Osechi Ryori is traditional Japanese "good luck" food that is enjoyed during the New Year.
Read more
Store Events and News, Holidays, Seafood Department, Grocery Department, Produce Department, Deli (and Catering)
---
Our 2021 Holiday Food & Gift Guide is here! Find a variety of great gift ideas, holiday…
Read more
---
When it comes to food, sometimes you have to make a call on whether you want to…
Read more
Featured Produce Uwajipedia