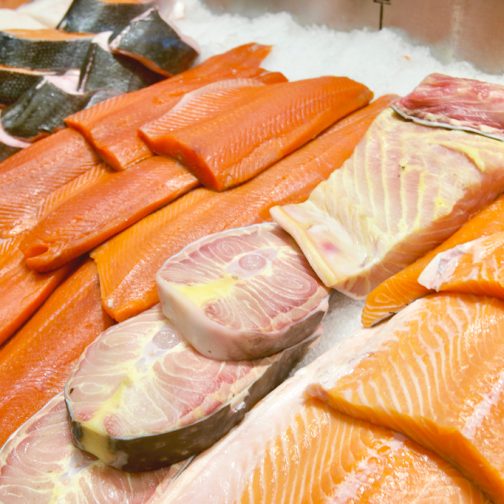 Department Highlights
Sashimi
Large selection of restaurant quality sashimi
Poke Bar
Hawaiian style poke made fresh daily!
Full Service Counter
Our skilled staff can clean, steak, fillet and even butterfly your fish
Live Fish & Shellfish
Bring home live seafood from our live tanks
Whole Fish
Discover assorted whole fish on ice
Fish Cakes
Find a large variety of kamaboko (fish cakes)
Kasuzuke Black Cod
An Uwajimaya family recipe. We brine our local and sustainably sourced black cod for 1-2 days, then marinate in our own made-from-scratch kasuzuke (sake lees) marinade for 48 hours. The result? A buttery, tender fish with a sweet and savory flavor!
Unagi Kabayaki
One of Japan's most beloved seafood dishes. Unagi Kabayaki is grilled eel in a sweet and savory sauce. Simply bake in the oven and enjoy over rice!
Boiled Hotate
Need a quick appetizer for dinner? Boiled Hotate (Baby Whole Scallops) from Japan's Mutsu Bay, in Aomori Prefecture, are fully cooked and ready to eat! These highly prized shellfish have a firm texture and sweet taste. We tossed ours in warm melted butter with a splash of ponzu. Featured Seafood
Discover More About our Seafood Offerings
Osechi Ryori is traditional Japanese "good luck" food that is enjoyed during the New Year.
Read more
Store Events and News, Holidays, Seafood Department, Grocery Department, Produce Department, Deli (and Catering)
---
Have you ever wondered how to cut and use the saku or sashimi blocks you find in…
Read more
---
Party menu
Catering
Whether you're looking for dinner tonight or having a special occasion, let our seafood department help! Our experienced seafood staff is dedicated to exceeding your expectations.
Get it Shipped
Not from around here?
Not from around here? We'll deliver our quality seafood to you, next day air via FedEx. If you're traveling, we'll pack your seafood in air approved, odorless boxes guaranteed cold for 24 hours.
Yum! Yum! Yum!
Our Favorite Seafood Recipes
Featured Seafood Uwajipedia